Safe, efficient installation saves you time and money.
What's the most important step when adding a new heating, ventilation and air conditioning system to your building? Professional installation. Of course, designing and building a system for your needs are also very important. But a system that is incorrectly installed diminishes reliability and performance ... and costs you money.
Airtech Thermex gives you an advantage. Because we design the system specifically for your building, we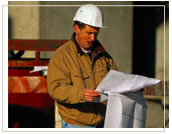 know what to expect during installation and you won't get hit by last-minute fees and add-ons.
We know down time is money lost. You can count on us to move the job along as safely and efficiently as possible to meet your schedule. Everyone at Airtech Thermex is a professional committed to meeting your goals and to ensuring your complete satisfaction. Ask us how we can install your HVAC system faster and more affordably.